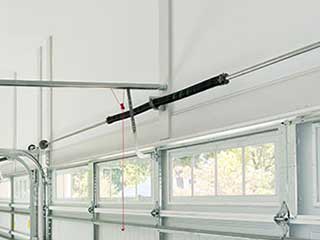 A Necessary Part
The springs of your garage door are a huge, important component of what gets it moving when you need it too! They store up tension, or energy, that's expended to lift up your door's weight, which is heavier than you might think! This is why it tends to be obvious when there's a problem with them, such as jerking a lot when the door's moving if it opens at all, or only lifting part way and then stopping. In any case, it's best to get the problem taken care of right away, otherwise continued use in this state will just make more strain on the rest of the system and likely cause more part damage to be dealt with later on.
What Are The Types Of Springs?
There are two kinds of springs for garage doors that are separated in how they create energy for it. One, torsion, does this by twisting up tightly while the other, extension, is instead stretched out to do so. This may not seem like a notable difference, but it's important when it comes to the longevity of the spring. Torsion springs are preferred because they last longer than extensions usually do. Extension springs are pulled to the limit daily which causes a lot of wear and tear. They are also problematic in that they tend to snap when they break and can bounce violently through your garage to cause damage. However, our professionals can take care of whichever type you have and are very familiar with them both!
Allow Us To Help You!
Our technicians are ready to give you a hand as soon as possible to get your garage door back in working condition in no time, whether your springs need a few adjustments or to be replaced altogether. Attempting either of these services yourself can result in harm to you and your door, as springs are extremely dangerous if they aren't handled carefully. If the spring isn't properly put in, the entire door will be struggling to function and will likely damage even more components because of it.
Why Wait Any Longer?
Call Garage Door Repair Bulverde today for all your garage door springs' needs!
Need more? We also provide:
Extension Spring Adjustment
LiftMaster Garage Door Openers
Galvanized Torsion Spring Installation
Garage Door Cable & Track Repairs