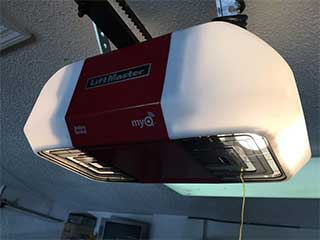 Any motorized unit that uses both mechanical and electrical components in order to operate will eventually suffer from some type of a malfunction. The complexity of these devices makes this an inevitability. When your garage door opener no longer functions the way that it's supposed to, you need to give our company a call.
Motor Gear Problems
Your opener's motor is the part that's responsible for producing the necessary horsepower that will promote your door's movement. When its gears wear out, or even break, you may hear a strange whirring noise, and find that your door is inoperable. Our technicians can replace the affected components and restore the unit's operation quickly and safely.
Misaligned Safety Sensors
Your opener uses a pair of photo-electric "eyes" in order to prevent the door from hitting an obstacle that's blocking its path. These sensors are positioned facing each other, and they send an infra-red beam across the door's threshold. When something – a person or an object – breaks the beam, the sensors communicate this to the opener's mainframe, which then reverses the door's operation, or prevents it from closing. However, if these "eyes" become misaligned, they may not be able to properly detect an obstacle, which can lead to catastrophic accidents. Realigning them requires a delicate approach, so it's best that you have our technicians do it.
Buying and Installing
The task of choosing the perfect opener for your home may not be as simple as it seems. The wide range of choices alone can feel a little overwhelming, and knowing which model is the one that best fits your specific needs may not always be clear. Thankfully, our experts are more than happy to help every customer find their perfect match. We'll consult you on the various features you may want to consider, and make sure that the unit you choose is fully capable of supporting the weight of your door. Once you've made an informed decision, you can count on us to perform the opener installation without delay.
Count On Us
Garage Door Repair Bulverde is here to provide an effective and affordable solution to any and all of your opener-related problems. Contact us today.
We also offer the following:
Part Replacement & Repair
Torsion Spring Adjustment
Garage Door Safety Inspections
Screw Drive Opener Replacement